Considering dedicated home theater seating?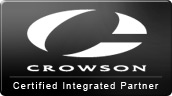 This logo signifies a manufacturer that has worked with Crowson engineers to determine proper installation procedures, mounting points and processes to ensure premier Tactile motion performance.
Mountable actuators are installed at the respective factories or by one of their certified dealers for a permanent and completely hidden design.